Sunday Morning Services
In-Person
Email: Centerpointcommunitychurch@gmail.com
to connect or receive more information.
SUNDAY WORSHIP
10:30 a.m.
Join us each Sunday morning.
Thursday Night Bible Study
Little Lambs Summer Picnics at the Park
John A. Antoline Memorial Park
2500 Marshall Road, Monaca, PA 15061
2-4pm
June 9th
Come learn about creation with us! We will be planting a plant and playing in the park together.
July 7th
Come learn about praying with us! We will be Tie Dying (please bring a t-shirt or whatever you want to tie dye) and playing in the park.
August 4th
Come learn about how God is always with you! We will be playing games today and may get a little wet!


YOUTH GROUP!
1st and 3rd Sunday of the Month
high School

(Grades 8th

-12th)
D

ive deeper into your walk with God!
COMMUNITY
"We, at Centerpoint, are a group of believers in Christ dedicated to having community in the truest sense of the word. We believe, and practice, our motto of "Building God's Kingdom by Building God's People."
We are a loving family that is excited about what God is doing at Centerpoint. We have something for everyone, from kids in the nursery to adults of all ages.
We are glad you have visited us on the web, but we would love for you to visit us in person."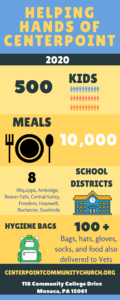 Come Get Involved in Serving our Community Together!