Come and worship with us!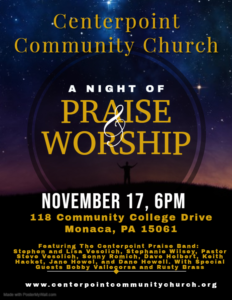 SUNDAY WORSHIP
10:30 a.m.
Join us each Sunday morning.
Sunday School,
9:30 AM
Worship, 10:30 AM
BIBLE STUDY
Please join us for Bible Study each week!
YOUTH GROUP
1st and 3rd Sunday of the Month
Middle School (Grades 4th-7th)
LITTLE LAMBS
All children, infants to teens welcome!
Exciting, monthly events!
.
D

ive deeper into your walk with God!
COMMUNITY
"We, at Centerpoint, are a group of believers in Christ dedicated to having community in the truest sense of the word. We believe, and practice, our motto of "Building God's Kingdom by Building God's People."
We are a loving family that is excited about what God is doing at Centerpoint. We have something for everyone, from kids in the nursery to adults of all ages.
We are glad you have visited us on the web, but we would love for you to visit us in person."
MINISTRIES AT CENTERPOINT
1.Cafe Outreach
2. CEF – Child Evangelism
Fellowship
3.Children's Church
4.CommuniCycle
5.Community Day
6. Deacons
7. Elders
8. Grief Share
9.Helping Hands:
*BackPack
*Shelter
*Food
10.Little Lambs
11.Meet and Greet
12.Missionaries
13.Nifty 50's
14.Quilting Ministry
15.Outreach Events
16.Small Groups
19.Stephen's
Ministries
20.Sunday School:
*Adults
*Children
21.Young Adults
22.Youth Group: Middle & High School
Come
& Get

Involved